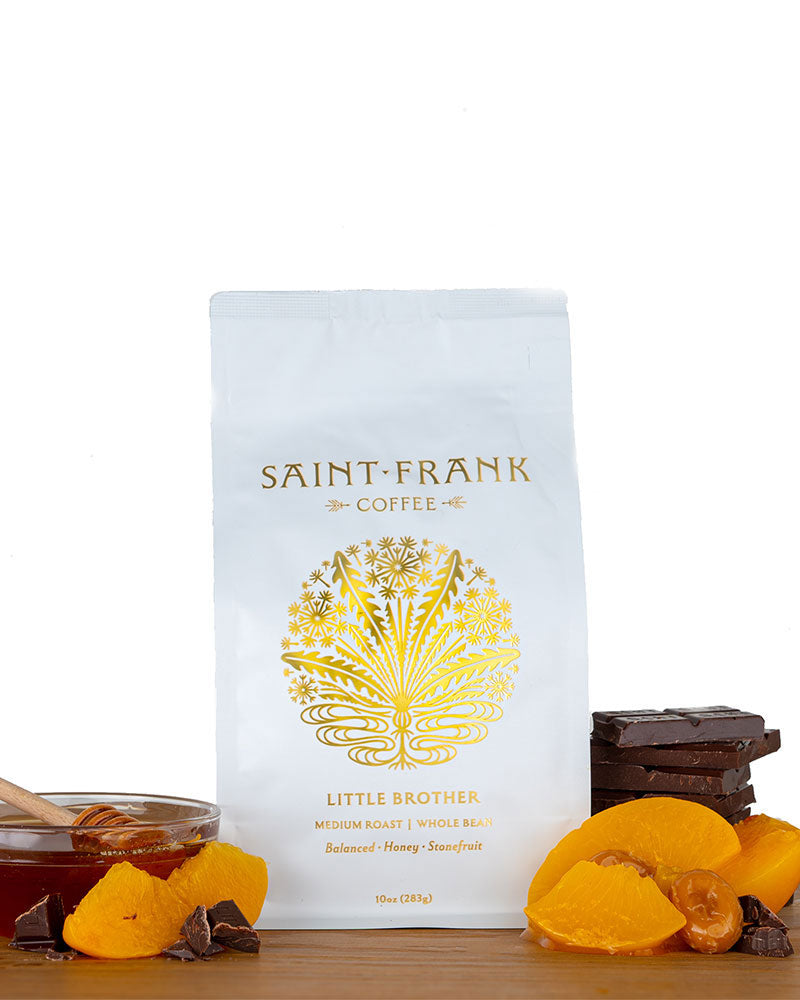 An uncommon balance between bright and sweet stone fruits with lower toned flavors of rich milk chocolate, caramel, and honey
Little Brother always features relationship coffees that stand on their own as single origin offerings from small scale producers we know, so the overall quality, balance and consistency is rarely matched in an espresso blend. Even with such consistent coffees, we also roast each component separately to align their development and solubility for the most even extraction possible. Always a breeze to dial in as espresso and easy to brew using your favorite filter method. 
Little Brother is our reference to the company of Saint Francis as well as an expression of our vision in sourcing and sharing coffees. Francis affectionately called his group of friends as the "little brothers" never taking themselves too seriously while at the same time serving one another and the world with a familial connection. Little Brother Espresso is our attempt to give you something unassuming and humble yet inherently special and significant, sweet and approachable yet still compelling. We always comprise Little Brother with coffees from small family farmers, the true source of the coffee stream flowing throughout the world.
Honduras Xinacla

50%

Grown by Moises Herrera and Marysabel Caballero in Marcala, La Paz. These are some of the most driven, gracious and successful coffee producers in the world let alone Honduras.  These catuai coffees are some of the sweetest, cleanest and densest anywhere.

Kenya Kiringa

50%

Grown by the small family growers of the Thunguri Factory in Kirinyaga County produced by the Long Miles Coffee Project. This classic Kenya contributes bright and punchy cherry and blackcurrant flavors.  We don't often have Kenya in Little Brother but the occasional moments are super fun, expect more!
Learn how to make Little Brother Espresso at home with Owner and Founder Kevin Bohlin: